www.heboyapi.com
Hebo Yapı San. ve Tic. A.Ş.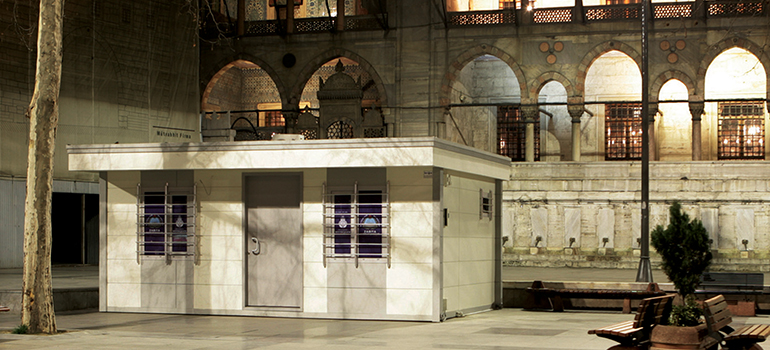 HEBO Yapı Sanayi ve Ticaret A.S., an affiliated company of Hekim Holding, was established in 1996 with a closed production space of 14.000 m2 within an integrated production facility covering an area of 30.000 m2 and it is a prominent company with a powerful economic impact on its sector. It has become a leading company in the market with sales rates increasing each year, approaching 50% annual export potential, prescient and innovative production line, strong infrastructure, high product quality, committed and professional service mentality.
HEBO Yapı A.S. manufactures living spaces and city furnitures in required qualifications, within the direction of its expertise in the field of R&D and P&D. It makes life easier with prefabricated worksite and residential buildings, multi-purpose house containers, safety cabins, sales units, portable wc-shower and changing rooms, dormitories, dining halls, office buildings, storage rooms, site buildings it manufactures. It provides meeting the contemporary requirements of new urban planning and utilization of products in a way to contribute to the urban development.
HEBO Yapı A.S. has created its products by combining it with environment-friendly raw materials and 21st century technology and blend it with the requirements of today's urban planning. While offering multi-functional solutions even in small spaces with these features, it can also offer products in harmony with modern urban fabric with facade coating types in its appearance.
HEBO Yapı A.S. continues its services and activities with the anti-corrosion and incombustibility features and high heat and sound insulation it ensures with superior quality and latest technology materials it uses.
Product Groups
Prefabricated Buildings
Containers
Hebo City
Cabins
Steel Buildings
Capacity
Prefabricated Buildings: 20.000 m²/month
Container: 800 pcs/month
Steel Construction Buildings: 10.000 m²/month
Cabins:1.000 pcs/month