18th Ömer Hekim Circumcision Feast was prepared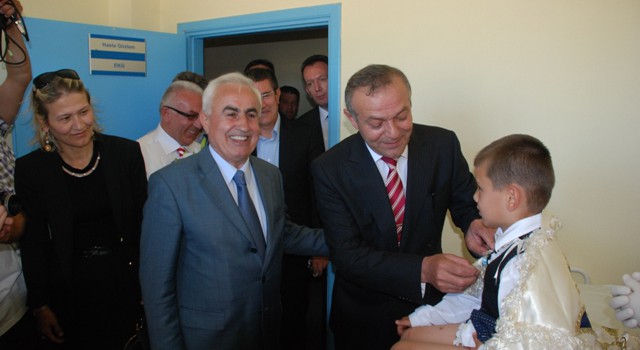 18th Ömer Hekim Circumcision Feast was prepared in Piraziz county of Giresun.
Governor Mr. Dursun Ali Sahin, AK Party Group Deputy Chairman and member of parliament from Giresun Mr. Nurettin Canikli, CHP Giresun MP Mr. Esref Karaibrahim, MHP Giresun MP Murat Ozkan, district governer Mr. Ali Hamza Pehlivan, Mayor of Giresun Mr. Kerim Aksu, Mayor of Bulancak County Mr. Kadir Aydin, NGOs, representatives of political parties and invitees participated to the feast prepared by the district governorship in the garden of Ömer Hekim Health Care Center.
Governor Sahin said that the circumcision feast organized on behalf of Ömer Hekim, son of Öner Hekim, the chairman of the board of Hekim Holding is a very meaningful event.
Mr. Sahin stated that Öner Hekim has made many significant investments and services in many regions of Turkey, Giresun being in the first place and said "I wish we had someone like Öner Hekim in every city. His son has passed away, but he has made his place on the hearts of many. I hope Mr. Hekim's investments will continue. He is not only doing charity work, he is the sole reason that an establishment such as Hekim Milk Factory continues its activity in Giresun. I congratulate him."
Ak Party Group Deputy Chairman Mr Canikli expressed that he was very happy to know someone like Öner Hekim and stated "He is both a friend of mine and Giresun. His support to our country and Giresun will not be forgotton. We hope his support, success and service will continue. We hope there will be more people like him."
Kaymakam Pehlivan ise, i şadamı Öner Hekim'in ilçede 3 sağlık ocağı, 2 okul, öğrenci yurdu ve il genelinde çeşitli eserler yapığına dikkat çekerek, şöyle konuştu:
"Sayın Hekim'in hayırseverliği ilçeye adını veren Pir Aziz Bey'in kültüründen geliyor. Kendisini 'elini, gönlünü, kapını açık tut. İhtiyaç sahibi olsan da paylaşmaktan geri durma' diyen erenlerin öğüdünü fazlasıyla yerine getiren Ahilik kültürünü yaşatan bey olarak görüyoruz. Sadece burada değil, benim daha önce görev yaptığım Hakkari Dağlıca'da bile onun bağış olarak yaptığı okul var. Kendisinin ve oğlunun yaptığı bu eserler ona ve rahmetli oğluna dua olacak. Bu dualar onun daha çok insana ekmek vermesine, ülkemize daha çok hizmet etmesine vesile olacaktır. "
Hekim Holding Yönetim Kurulu Başkanı Öner Hekim de, etkinliğin kendileri ve ilçe için önemli olduğuna dikkat çekerek, "Çocuklarımızın yaşamının dönüm noktası olan erkekliğe adım attığı bu önemli güne hep birlikte tanık oluyoruz. Ailelerinin mutluluklarını paylaşıyoruz.
Allah onları analı, babalı büyütsün. Hepsi de yüksek mevkilere gelsin, başarılı olsunlar. Memleketine, vatanına milletine hayırlı birer evlat olsunlar. Dileğim budur" dedi.
Tören sonunda sünnet olacak çocuklara Vali Şahin ve milletvekilleri altın taktılar. Tören Vali Dursun Ali Şahin'in Öner Hekim'e Piraziz Kaymakamlığı tarafından hazırlanan plaketi sunmasıyla sona erdi.
Törenin ardından Öner Hekim ve ailesi, 2008 yılında vefat eden oğlu Ömer Hekim'in Şeyhli Mahallesi'nde bulunan kabrini ziyaret ederek dualar okudular.