20th Ömer Hekim Circumcision Feast Started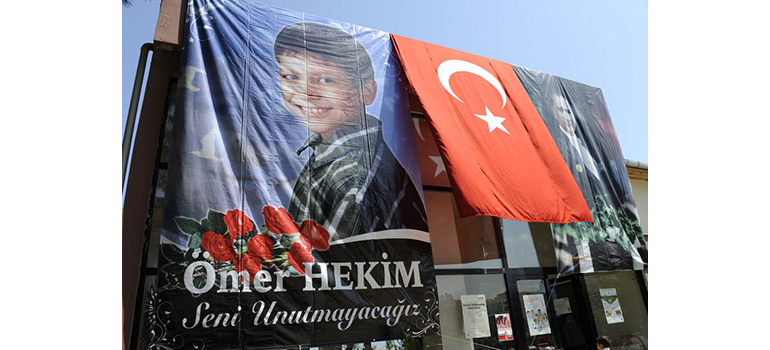 20th Ömer Hekim Circumcision Feast, carried out under the organization of Piraziz District Governorship and Municipality and support of Öner Hekim, Hekim Holding's Chairman of the Board, started with a ceremony. Sons of 150 families which have applied from Piraziz-Bulancak and Gulyali counties will be circumcised within the scope of the event.
Adressing speech of circumcision feast was carried out in the garden of Piraziz Ömer Hekim Health Care Center with a broad participation as in every year.
Piraziz County Governor Huseyin Cam, making the addressing speech of the ceremony after Ömer Hekim's biography was read, thanked Öner Hekim who contributed to the event. Cam said, "our prized fellow townsman Mr Hekim shares the happiness of others by sharing the opportunity he has with the needy. May God give him more, because as He gives him, he gives back more to the society. I believe deceased Ömer Hekim is having the same happiness as the kids are circumcised here in our traditional feast which is organized for the 20th time this year."
Governor Cam stressed that circumcision has a significant place in our society and is important in terms of health and he said "Circumcision is a very important element in forming a healthy society. We need healthy youth and a healthy society in order to reach the targets set for 2023, the 100th year of our republic and the targets of 2071. In fact this ceremony today serves for this purpose."
Deputy Governor Fethi Yorulmaz stated; "We appreciate and congratulate Hekim family for their contributions to this event. Giresun should be proud with Hekim family. We wish to have more people like them. Small provinces need philanthropists more. In Bolu, the province I am from, we have Izzet Baysal who established a university and we have Mr. Öner Hekim here. Hopefully he will continue with his contributions. I wish God's mercy and grace to be with Ömer Hekim."
Circumcision feast continued with prayers and photo shoot. It ended with the protocol putting amulets, gifts from Öner Hekim, to the children who will be circumcized.
Food was also offered to Ömer Hekim charity at the feast.
Deputy Governor Fethi Yorulmaz, Deputy Mayor of Giresun Orhan Kurt, County Governor Huseyin Cam, Mayor of Piraziz Cafer Mavi, Deputy Rector of Giresun University Prof. Dr. Mahir Karadal, member of Provincial General Council Koksal Ozdemir, Ak Party County President Huseyin Aydin, CHP Bulancak County President Fatma Karaibrahim Canik, Provincial Health director Cengiz Cindemir, provincial and county protocol and some local representatives of political parties and NGOs participated to the ceremony.