Brand Assurance from Prefabrik Yapı A.Ş.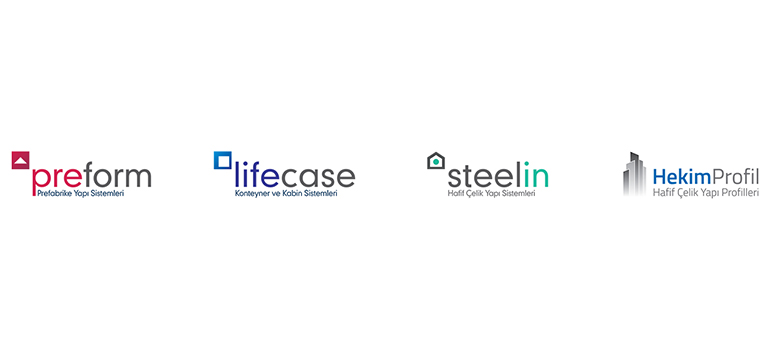 Prefabrik Yapı A.Ş. will initiate a brand new age in the building culture with its 4 new brands.
Innovations introduced by Prefabrik Yapı A.Ş. are still going on. Prefabrik Yapı A.Ş. which displayed its distinguished product range together with new brands, continues to offer innovative solutions at maximum level.
Prefabrik Yapi A.Ş., which has been providing services to more than 30,000 domestic and foreign companies since 1990, brings a more professional perspective to the living spaces with its brands like Preform, Lifecase, Steelin and Hekim Profil.
Prefabrik Yapı A.Ş. crowns the pride of a quarter century with 4 new brands through its advanced technology in Prefabricated Building Systems, Container and Cabin Systems, Light Steel Construction Systems and Light Steel Structure Profiles.
Professional Approach to Living Areas
Preform; the offices where the decisions are taken, the dining halls where a hygienic environment is provided during the food break, social facilities for activities and dormitories for you to comfortably and reliably rest after a tiring day and It provides professional approaches to all living areas.
It meets the demands primarily construction sector, in many fields such as energy, education, health, petroleum-natural gas, mining and defense industry sector with its distinguished product range..
Maximum Mobilization, Aesthetics, Functionality and Armored
You, no longer, need to think about how to transport your product, where to install it, or how much time you will lose. Lifecase; works continuously with minimum performance, for maximum mobilization and converts innovative ideas into new products with the help of technology.
Lifecase which is employed for differing functions in many sectors and mobilizations, offers secure and comfortable living spaces by making it available within such a short time as 2 minutes in cases where several minutes save lives in the interventions after the disaster.
While it appeals to the eye with color options, it provides secure spaces in the specially designed products with fire retardation and even armored structure.
Light Steel Structures are turning into Art and Which Steelin is yours?
You should be prepared to see multistorey light steel buildings in your surrounding….Thanks to the technology developed by Steelin, the light steel structure which can be constructed up to four storeys up to now, can be increased up to eight storeys..
Steelin, owing to its functionality, meets the requirements of aircraft maintenance hangar as well as workshops, storages, hangars, factory and the like wide-span alternative buildings.
Strong and Innovative Reflection of the Profile
With production lines featuring the latest technology, high precision profiles are produced, which will be drilled at the required positions and axis as per project details, and will be cut at the required length and dimensions without burrs.
Hekim Profil; as well as light steel buildings, provides added values as auxiliary products for heavy industrial facilities, installation legs for solar energy systems, stadiums, bridges and the like steel structures and decreases labor time and tonnages.