Demountable and Monoblock Container Alternatives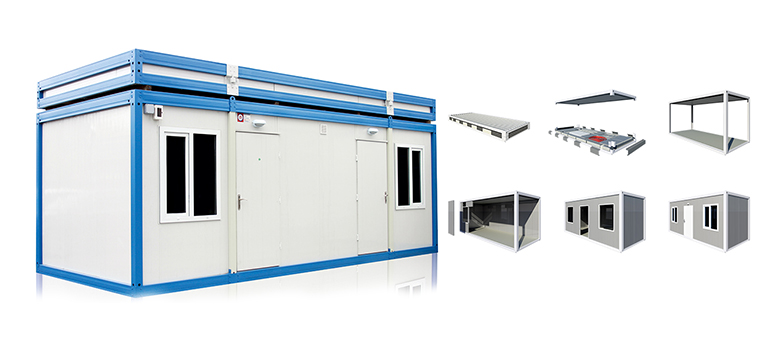 Prefabrik Yapı A.Ş. offers innovative solutions with demountable and monoblok container alternatives.
Prefabrik Yapı A.Ş. possessing its leader position in the prefabricated building sector for the past 26 years, through the innovations it introduced and technologies it created, offers innpvative solutions with superior product range where mobilization, aestehetices and functionality are kept at heighest level.
Prefabrik Yapı A.Ş., which is the leading company of the light steel building sector, keeps guiding the sector with its innovative products. Prefabrik Yapı A.Ş., which become popular with R&D ans P&D investments, creates living spaces that can be installed within only 25 minutes without requiring professional support with the Demountable and Monoblock Container systems it developed.
It is resistant to chalenging construction site conditions and climatic conditions and it can be employed up to 3 storeys. The products, all of which are demountable, environmental friendly, economical and durable, can be assembled and disassembled many times; and 12 of them as packed can be transported by one lorry. It is loaded in a very short time and stored easily.
Galvanized structural steel for the steel carcass, Hekim Sandwich Panels for the walls and natural cement boards with A1 class fire retardant Hekimboard fibercement technology, at the bottom, are employed.
Site mobilizations are the main objectives of using flat pack containers. They are easily preferred for satifying the needs for dining halls, dormitories, toilet and shower buildings, infirmary etc. in the site area. In addition to that flat pack containers can also be employed as emergency housing units. It offers functional solutions for schools, hospitals, health centers, social facilities, camp structures and to many areas.
Prefabrik Yapı A.Ş., under Steelin brand, creates livable areas for the future with prefabricated light steel buildings, ecological containers, passive houses and zero carbon emission Mars Container.
It is initiating a new era in building culture with its different aesthetic and technological solutions ranging from luxury villas to multi-storey buildings to ecological living units.