Great attention to Steelin in the fair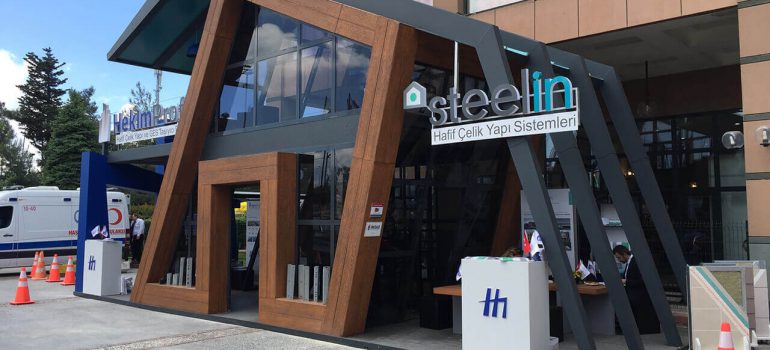 TTENTION TO STEELIN, WHICH IS THE ARCHITECT OF MULTI-STOREY STEEL BUILDINGS AND LEADER BRAND OF LIGHT GAGE STEEL SYSTEMS, WAS GREAT.
Hekim Holding's Light Steel Construction Systems brand Steelin,which is the Light Steel Construction Systems brand of Hekim Holding which is the leader organization of Prefabricated Readymade Structures and Construction Materials sector, by combining its products and services with "Virtual Reality Technologies", has presented a 3D-visual feast in the the Istanbul Construction Fair the fortieth of which was held this year, on Multi Touch Secreen with VR3 Virtual Reality Glasses.
While STEELIN's interior wall, exterior wall, roof, ceiling, mezzanine floor details are displayed in real environment in true sizes, Technological applications are presented to the fair participants, in the same actual environment by means of Virtual Reality Technologies. STEELIN, which, in addition to its quality and technology, provides the sector with a new vision by introducing the Virtual Reality Technologies and interraction too,, becomes the focus of attention in the fair.
STEELIN offers Lightweight Structue Solutions through the structural system which complies with every climatic conditions, is permanent and has many usage purposes, and quickly installed, and profile variety employed in theese structures; By virtue of the new technology products made of 90% recyclable steel materials, the brand can construct reliable buildings up to 8 storeys. It provides ideal circumstances not only for housings but also for sales offices, warehouses, hangars, social facilities, factories and the like alternative buildings with wide-span functionality, in addition to many public buildings such as school buildings, student dormitories, military structures, health structures etc..
STEELIN performs all of its Light gage steel Structure productions at the Kocaeli-Şekerpınar,İstanbul – Güzelyalı/Pendik plants located on 63.500 m² land, in accordance with the requirements of ISO 9001 quality system. It makes project designs and manufacturings in accordance with not only Turkish Standards and Regulations but also BSI, EUROCODE, AISI standards, with the quality of the material it used, production kapacity, existing machinery equipment, professional staff in additio to the technology it developed in the light gage steel structure.