Hebo Yapı A.Ş. in the 2015 Ankara Construction Fair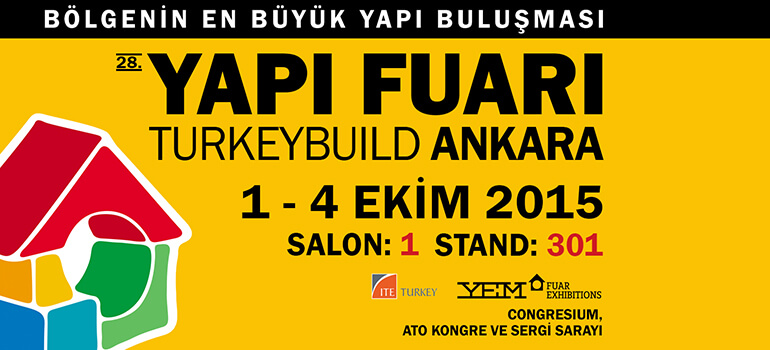 Hebo Yapı A.Ş. removes the boundaries in innovative solutions.
The 28th Building Exhibition – Turkeybuild Ankara, which is the largest sector meeting of the Turkish construction sector and the region, will take place between October 1 and 4, 2015 at "the Congresium Ato Congress and Exhibition Center"
In the fair, which plans to bring together all stakeholders in the sector, in the fields of building,construction materials and technologies, Hekim Yapı A.Ş., will take part at stand numbered 301 in the hall 1, with its experienece that make difference in the fields of Prefabricated Buildings, Containers, Hebo City brand, Cabins, Prefabricated Housing and Steel Structure.
Hebo Yapı A.Ş. manufactures living spaces that are required by individuals and institutions and in accordance with the needs, in line with the expertise on R&D and P&D that Hebo A.Ş acquired by starting out from the slogan "independence of design". It makes difference in its sector by facilitating the living with all kinds of site buildings, multipurpose accomodation containers, security cabins, sales units, modular toilet-shower, changing cabins and project-based boutique buildings among its broad product range.For the new urbanism, It intends to meet the requirements, and use of products in a manner to help develop the city.
For a livable world; it demonstrates its sensitivity with environmentally-friendly production processes, recyclable materials and eco-friendly products. Hebo Yapı A.Ş., unearths its products by combining environmentally-friendly raw materials and technology and blending with the requirements of today's urbanism.Hebo Yapı A.Ş., which plays role in the construction of cities, conducts all of its activities by conserving the heritage of the nature.
Hebo Yapı A.Ş., which conveyed the increasing importance of the phenomenon "to build" especially in the recent years to its own restructuring, intends to be existing across the world, at any place where there is human, through its different and aesthetic solutions ranging from luxury villas to multi-storey buildings, from public buildings to ecological living units, from industrial city products to disassembled functional structures.
Hebo Yapı A.Ş. says " we are also present in the world of quality and aesthetics." by taking part in the 2.900.000 square meters project in 65 countries on 6 continents.