Hebo Yapı makes difference in the 28. Turkeybuild Construction Fair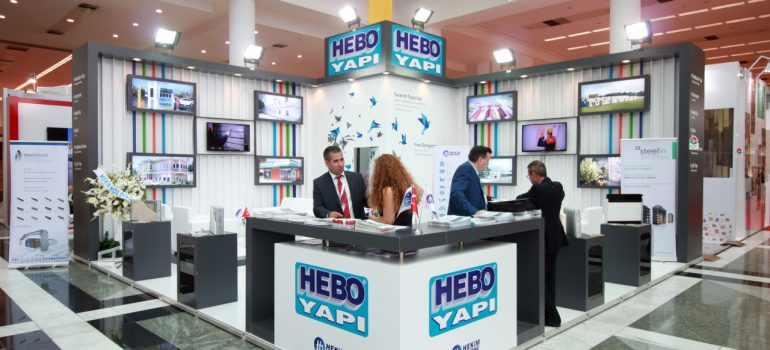 Hebo Yapı A.Ş., makes difference with its innovative slutions for prefabricated building systems in the 28. Turkeybuild Construction Fair.
The 28th Construction Fair-TurkeybuildAnkara, which is the greatest rendezvous of Turkish building sector and the region, has taken place in "the ATO Congresium international convention and exhibition center" between October 1 and 4, 2015.
In the fair, which has brought together all stakeholders in the sector, in the fields of building,construction materials and technologies, Hebo Yapı A.Ş.,has offered services beyond expectations of individuals and organizations through its experience that makes difference in the fields of Prefabricated Building, Container, Hebo City, Cabin, Prefabricated Housing and Steel Structure.
Hebo Yapı A.Ş. has started out with a slogan of " independence of design" and became expert on R&D and P&D (Product development) constituted with this point of view; in line with the foregoing, it manufactures living spaces that are required by individuals and institutions and in accordance with the needs.It makes difference in its sector by facilitating the living with all kinds of site buildings, multipurpose accomodation containers, security cabins, sales units, modular toilet-shower, changing cabins and project-based boutique buildings among its broad product range. It aims to meet new, contemporary requirements in urban planning and to use its products to contribute to city development.
For a livable world; it demonstrates its sensitivity with environmentally-friendly production processes, recyclable materials and eco-friendly products. Hebo Yapı A.Ş., unearths its products by combining environmentally-friendly raw materials and technology and blending with the requirements of today's urbanism.Hebo Yapı A.Ş., which plays role in the construction of cities, conducts all of its activities by conserving the heritage of nature.It acts in accordance with the awreness of this responsibility, in productin stages as well as the products fabricated.
Hebo Yapı A.Ş., has conveyed the increasing importance of the phenomenon "to build" especially in the recent years to its own restructuring; and intends to play more active roles in building new cities. From luxury villas to multi-storey buildings, from public buildings to ecological living units, from industrial city products to disassembled functional structures, Hebo Yapı A.Ş., through its different aesthetic and technological solutions, wants to be present at every place in the world, where human exists.
Hebo Yapı A.Ş. takes a firm stand by saying " we are also present in the world of quality and aesthetics." after taking part in the 2.900.000 square meters project in 65 countries on 6 continents.