Hekim Holding Is Not Fed up with Awards.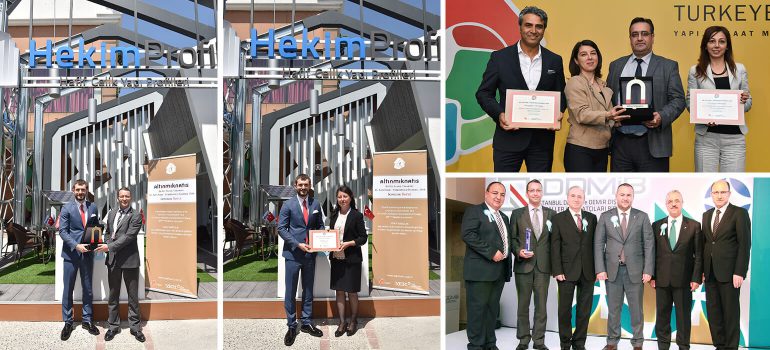 Hekim Holding, the pioneer company that has achieved the firsts ever in Turkish Construction Industry, has been awarded with three awards at the same time within a week.
Hekim Holding, was granted with two awards at the same time, in the five stands that were installed on an area of collectively 505 square meters, for its 4 companies and 2 enterprises in the 39th Construction Fair taken place between May 11 and 14. and It received another award from Istanbul Iron and Non-Ferrous Metals Exporters Association (İDDMİB).
Prefabrik Yapı A.Ş., of Hekim Holding companies, has won the third place in the category of " metal Goods" according to 2015 export figures among 6,000 members of IDDMIB. Prefabrik Yapı A.Ş. Deputy General Manager Mustafa Tolunay, said" the awards are the best motivating tools in order to achieve better targets; We will continue to increase our export figures and target by multiples every year.
The stand of Hekim Profil & Steelin, the brands of a Hekim Holding company Prefabrik Yapı A.Ş., and the stand of Hekim Yapı A.Ş have shared the second prize among each other in the Golden Magnet "Stand Design Competition Awards", which became a tradition of CONSTRUCTION FAIR – TURKEYBUILD.
The jury members, who placed great importance on associating the product with the stand at the design awards, made their selection over Hekim Holding stands.The use of Hekimboard branded product, Fibercement boards of natural cement, the demonstration of stages of steel profiles of the Hekim Profil-Steelin stand before and after coating, in the same stand, in all designs have brought the second prizes to both of the companies..In addition, explanation of the fact that steel profiles are sustainable, ecological and renewable products, and the tree figure constituted by the profiles, and its integration with the design attracted great attention.
Sıla Uzundurukan, the architect of Su Mimarlık has designed the stand of Hekim Yapı A.Ş.; whilst Yeliz Uzunyurt of Prefabrik Yapı A.Ş.'s architects has designed the stand of Hekim Profil-Steelin. Hekim Profil-Steel's stand, which participated in the fair at separate stand for the first time as the brands of Prefabrik Yapı A.Ş., became a source of pride for Hekim Holding.
Employees of Hekim Holding who attache great importance to stand designs for every fair it participated, have taken the eligible pride of their awards.