Hekim Holding with its 4 companies present in the 38th Construction Fair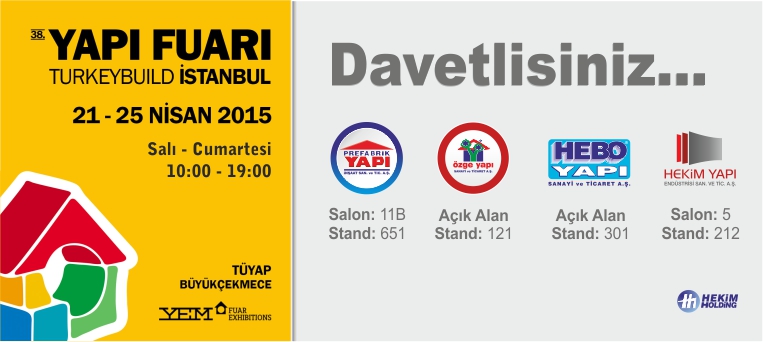 Hekim Holding is present in the 38th Construction Fair with its 4 companies and innovations it introduced.
Hekim Holding, which is assuming the leadership of the sector with the firsts it brought to the readtmade building sector, is present in 38th Construction Fair together with its companies, Prefabrik Yapı A.Ş., Özge Yapı A.Ş., Hebo Yapı A.Ş. and Hekim Yapı A.Ş…
Hekim Holding, which includes the leading companies of the readymade construction sector, participates in the 38th Building Fair held at the TÜYAP Exhibition Center in Istanbul between the dates of 21-25 April 2015, together with Prefabrik Yapı A.Ş., Özge Yapı A.Ş., Hebo Yapı A.Ş. and Hekim Yapı A.Ş.In the construction fair, which brings national ans international sector professionals together and turned into the summit of construction technologies, Hekim Holding's leading companies conveys the innovations they introduced to the sector, to the fair.
Aydan HEKİM, Vice President of Administrative and Financial Affairs of Hekim Holding Board of Directors, said:"We have an important role in the sector with 8 companies and 8 enterprises, and we are being discussed together with our innovative and entrepreneurial attitude".All our companies operating under the roof of Hekim Holding, rapidly keep on in the direction of entrepreneurship and sustainability.The power of the Hekim Holding in the readymade building sector originates from its companies each of which is specialist in its field, high capacity intregrated facilities, solution-oriented professional approach and the unity and supplementing features of our group companies. We offer products and services beyond the expectations of our customers, business partners. We never make concessions on our quality and our environmentalist approach. With our awareness in this regard, we are among the most important companies of the sector providing services across the world."
She said "As Hekim Holding, 170.000 m² production area, 17.000 m² readymade building promotion area, more than 1,000 employees, exporting to nearly 90 countries in 6 continents; having more than 100 dealers in Turkey and abroad, and over 42.000 references." and emphasized on that they support development.
This year Prefabrik Yapı A.Ş. keeps on innovations it brought to the sector with Preform, Lifecase brands ve Steelin, Hekim Profil enterprises.Prefabrik Yapi AS, which puts its outstanding product range before eyes, offers maximum innovative solutions. It starts a brand new era in the buuilding sector with its professional pint of view it brought to the living spaces. Prefabrik Yapı A.Ş. takes its place at the stand numbered 651 in the 38th Construction Fair Hall 11B with a pride of a quater century for its advanced technology on the prefabricated Building systems, Containers and cabin systems, light steel structure systems and light steel structure profiles.
Özge Yapı A.Ş. takes its place, as a symbol of change, development, technology and innovation at the stand numbered 121, in the open air section of the 38th construction fair.It attracts admirations with its oustanding houses and buildings in the prefabricated sector with a slogan of "4 season peace, life long trust". It brings together its visitors with the doors of new living style with weldless connection technology on prefabricated buildings, fibercement facade claddings, butique housing projects and through aesthetic undestanding,.
The new generation Hebo City brand keeps on being among your preferences of top priority, with multipurpose accomodation containers, qualified products for the urban furnitures.In addition to its excellent multi-purpose prefabricated buildings, it also makes a difference through the products designed with such concepts which is compatible with their locations and architectural textures, such as sales units, buffet, taxi stands, consultation-contact points, toilet cabins.Hebo Yapı A.Ş., the combination of quality and aesthetics, brings you together with its sales office where you can see different details at the stand numbered 301 in the open air section of the 38th Construction Fair.It offers multipurpose constructive solutions together with its environmentalist approach and nature theme under the principle of sustainability.
Hekim Yapı A.Ş. will take the pride in reaching a production capacity of 4.000.000 square meter per year with the addition of a new line in 2015 to its facility producing annually 2.000.000 square meter sandwich panel.The panel types to be produced in the Hekim Yapı A.Ş. facilities with the reorganization, are Hidden screw (capped) roof panels, Standard 3-5 pitch roof panels, hidden screw wall panels, H-profile sandwich panels, cold room sandwich panels, standard wall panels, membrane and kraft paper roof panels.It aims to put signatures on the firsts ever, by producing large width polyurethane panels that are particulary required by the prefabricated building sector in the facility which produces in 600-1250 mm widths.It will become an organization with the broadest range of products in the sector together with the polyurethane foam sandwich panels to be added to existing rockwool and EPS sandwich panels produced in the esxisting facility.Hekim Yapı A.Ş., which has the feature of being a leader in the sector with its R & D investments, has added a new product to the Fibercement natural cement product range with HekimBoard brand, it was heralded that ıt will start mass production of boards with walnut tree pattern andnatural stone pattern. Hekim Yapı A.Ş., as a consequence of its investment, will present the production of jambs and exterior fascia moldings particularly prefered in the architectural projects, and patterns, modelling, qualification and impressive details of the fibercement natural cement boards, to the taste of its dealers and customers. It is the pioneer of aesthetics in the construction materials sector with its distinguished product range and supplementing alternatives.
At the same time, HekimPor branded asmolen, ceiling plates, corrugated roof panel, carbon and white insulation board products will be promoted.Hekim Yapi AS will take part at the stand number 212 in the 5A Hall at the 38th Building Exhibition with HekimBoard, HekimPanel, HekimPor, HekimPlast and Hekimpan brands.