Hekim Holding's Moment of Pride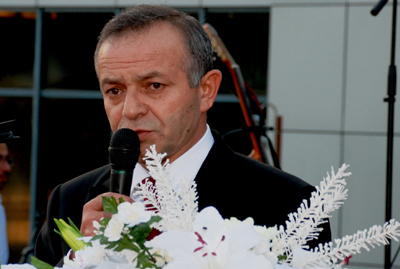 ÖNER HEKIM: WE LOVE OUR COUNTRY. WE ARE TRYING TO BE GOOD CITIZENS BY DOING GOOD DEEDS.
Senior executives of Hekim Holding participated in the staff dinner. Around 300 executives working in the affiliated companies participated at the dinner prepared in Istanbul Gebze Life Port Hotel.
Öner Hekim said in his speech to the employees, "We are all serving to our country. We are trying to be a good citizen by doing good deeds, because we love our country very much."
Deputy general Manager Özlem Oğuzoğlu said in her opening speech, "The establishment of our holding is a success story and no success is coincidence. This story started with 2 welding machines and a 140 m2 of workshop and we are continuing to write new success stories with 1000 employees and companies in various sectors, producing on thousands of square meters of land and with the power of competence in the international markets."
Oğuzoğlu evaluated the last 3 years and explained the targets of the holding, stated that they planned new investments in African and Middle East countries and continued, "We are proud as Hekim Holding employees, because in the presidency of Öner Hekim, Hekim Holding is a pioneer, it break grounds, it is a leader in technology and continues to serve domestic and foreign customers with exports to more than 50 countries. It is the first and only fiber cement producer in Turkey and as a result Hekim Holding is world's only prefabricated building manufacturer which produces all of the main raw materials used in the production of prefab buildings in its own integrated plants."
HEKIM: IT IS OUR CIVIC DUTY TO SERVE OUR COUNTRY AND OUR REGION
Chairman of the Board Öner Hekim said in his speech "We will continue to serve our country by working and producing in collaboration, carrying out new investments."
Mr. Hekim stated in his speech: "You have a great share in our success. I thank everyone of you. Form e the best citizen is the one who is doing his duty in the best way possible. We are trying to do s oto be the best citizen we can be. I hope you alla re. Me and my brother, we divide our income into three. We divide them to our employees, investments and charity work. We live off with the remaining amount. We are no different than you. Serving to our country and the place we live is our common target."
After the speeches were made and 10th and 15th year plaques were given to the related employees, a cake for the 21st year was cut.
Sedat Murat Bayrak General Manager of Hekim Süt Endüstrisi Gıda ve Yapı Sanayi Ticaret A.S, affiliated company of Hekim Holding, and executives Veysel Güneş, Mehmet Kıran, Murat Kostakoğlu and Selçuk Türker also participated to the dinner.