Hekim Yapı Receives EPD Certificate for Fibercement Products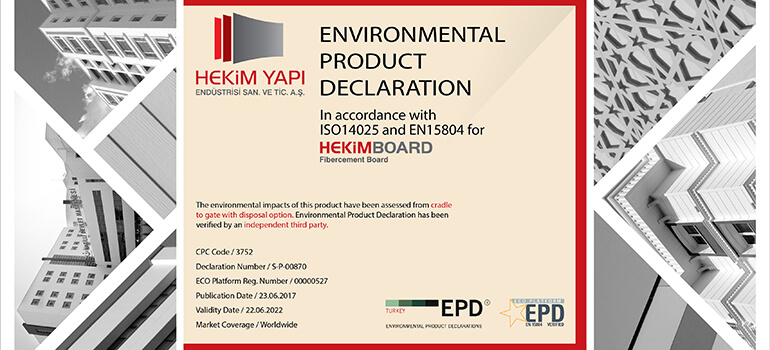 What is EPD (ENVIRONMENTAL PRODUCT DECLERATION)?
he Environmental Product Declaration, EPD, is a valified document that reports the environmental data and other related information generated through the Life Cycle Assesment (LCA) studies of the products according to international standards ISO 14025 (Type III Environmental Declarations).
Environmental Declaration as defined by ISO 14025, EPDs are declarations that evaluate the environmental performance of a product or service according to predetermined categories based on the parameters defined in the ISO 14040 series.
Environmental declarations that provide a declaration of environmental impacts, such as the international EPD system, are established within the framework of the Type III environmental declaration program.
WHAT IS EPD CERTIFICATE FOR?

the mark "CE" indicates that the operations performed during production are sustainable. You may have come across this on some of the products. Products with CE marking prove that resources are sustainable in production.
the areas of use become prominent in structural applications..EPD documents in buildings also determine many indicators. These indicators include many details such as water consumption, energy and carbon footprint.
Producers which provide services in the field of building products, are deemed to have also shown their sensitivity to the environment with such document.
The subject of ecological design, in this sense, causes the formation of the basis of approach.
Through the studies carried out for EPD certification, organizations have the opportunity to review and correct the environmental process of the procurement process or production.
Conclusion :
Hekim YAPI, a leader company in the construction materials sector, of the Hekim Holding, which is, as a result of the investment made in 2001 in Turkey, the first autoclaved fibercement natural cement boards manufacturer, in our country and the neighboring geography, has completed its studies and been entitled to possess the feature that it is a company received EPD document with its fibercement products.HekimBoard fibercement natural cement boards preferred in the prestigous projects with A1 class fireproof feature and naturality in general usage areas. The European standard will continue to be the choice of green buildings by obtaining the EN 15804 compliant EPD certificate.With this process, Hekim Yapı Fibercement Board took its place in EPD Turkey's registration system with S-P-00870 code. In addition, Hekim Yapı Fibercement Board has been registered with Eco-Platform as 00000527.