Hekim Yapı took its place at the 22nd Izmir Construction Fair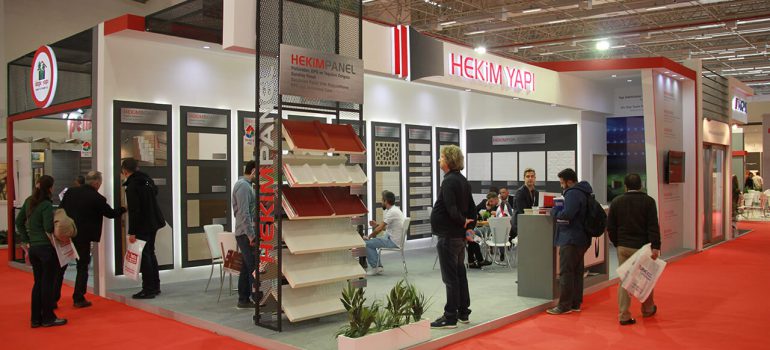 Hekim Yapi AS, of Hekim Holding companies, which is one of the pioneering companies through its firsts ever it provided to the Turkish construction sector, has taken its place in the İzmir Construction Fair the 22nd of which was organized this year, with in the field of interior and exterior cladding materials HekimBoard branded fibercement products, in the area of Insulated sandwich wall and roof – facade panels, HekimPanel , in the area of EPS insulation materials and packaging products HekimPor nd in the area of insulated ready-made wall panel HekimPan .
Hekim Yapı A.Ş., closely follows up the developments abroad; and is strengthening its top position every passing day as the first autoclaved fibercement board producer; and its HEKİMBOARD branded wood, walnut, stone, natural stone and all other pattern products, and jambs and storey-fascia moldings that are preferred especially in architectural projects, were appreciated by the visitors in the stand.
Hekim Yapı A.Ş. has commissioned the Polyurethane Foam Sandwich Panel facility on ljanuary 2016, and thereby, possess the most advanced Polyurethane Foam Sandwich Panel Production Facility in Europe and our country; and, together with the new investment line, it provided more than 500 people with employment opportunity, and the total investment cost of Hekim Yapı A.Ş. in the Hendek Campus, has exceeded 120 million US Dollars. HEKİMPANEL which produces all EPS, rock wool and polyurethane foam sandwich panels at the same time, takes its place among the rare companies of Turkey. It brought together the sector professionals with its products produced in order in its new production line, such as polyurethane foam hidden screw (capped) sandwich panels, standard 2-5 pitch roof panels, hidden screw wall panels, H-profile fibercement facade panels, Cold room type panels, H-panels, cold room panels, standard wall panels, Membrane and kraft paper roof panels.In addition, it presented polyurethane sandwich panels at 600-1250 mm width and broader width needed by the building industry, to the taste of prefabrication manufacturers.
In the fair, it promoted asmolene, ceiling plates, injection products, corrugated roof panel, KARAELMAS branded carbon insulation and PAMUKKALE brand white insulation board products, together with EPS products under the HEKİMPOR brand, which increases the market share in the construction sector every year.
HEKİMPAN insulated readymade wall panels manufactured by using HEKİMBOARD-branded fibercement boards and HEKİMPOR-branded EPS insulating material from the fibercement boards on both surfaces of which there is different thickness and surface pattern, provides speed and economy for prefabricated ready-made manufacturers.