Hekim's Contribution to Education Continues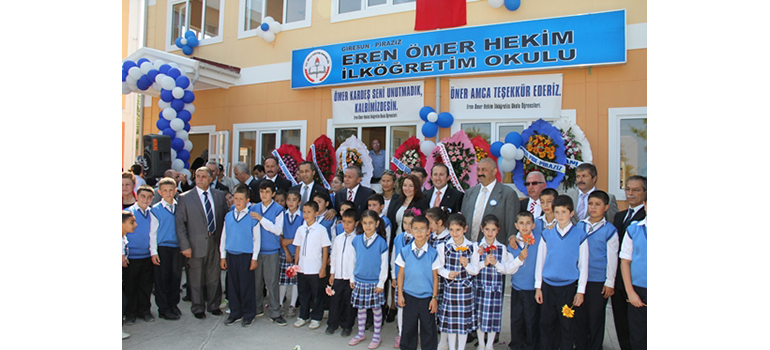 Deputy Governor Ahmet Yılmaz said Öner Hekim is a big, respectable and influential businessman and thanked him for his charitable work in Giresun and Turkey.
The ceremony started with folk dances and continued with students' speeches and students welcomed new students with flowers.
The ceremony continued with the celebration of 2011-2012 school year and Piraziz County Governor Ali Hamza Pehlivan stated, "In the last 3 years we always moved up in the field of National Education in Piraziz. 100% reading rate was achieved in our county with the effort and support of our Governor Dursun Ali Şahin. Another source of pride is the opening of Piraziz Eren Ömer Hekim Primary School." County Governor Pehlivan expressed that Öner Hekim has carried out many charitable works in Dağlıca, Hakkari Dağlıca and other places in the eastern region and received Presidential Letter of Appreciation and TBMM (Grand National Assembly of Turkey) Outstanding Service Award due to his charitable work and thanked him for his services. Pehlivan also talked about Ahi Week and said, "We announced Öner Hekim as the Ahi of the Year. This is the first time. Mr. Hekim will be the first Ahi Bey in Piraziz, the land of Ahi."
Attending the ceremony, PM Mehmet Geldi thanked businessman Hekim for his significant services and said "All businessman should take Öner Hekim as an example and invest in Giresun." PM Geldi also celebrated 2011-2012 school year and wished big businessman like Öner Hekim emerged from this group of students in the future.
Hekim Holding Chairman of the Board Öner Hekim stated, "We are trying to help in the fields of health and education as much as we can and we will continue to do so. We have built this school in the loving memory of my son Eren Ömer Hekim who passed away in 2008. I hope we will have a good school year." Regarding "Ahi of the Year" plaque he received he said, "This is one of the most significant awards I have ever received" and thanked.