Huge Projects bear signature of Hekim Yapı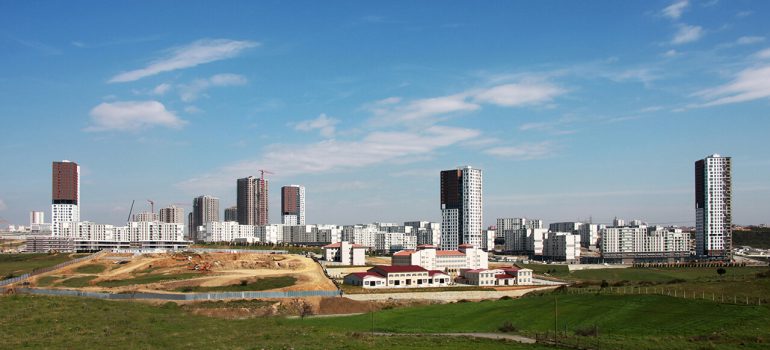 People started to reside in Başakşehir Houses whose construction wa complete in İstanbul Başakşehir, under the guarantee of Emlak Konut. It was converted to a prestigious project with 74 units of commercial spaces and a primary school.
Hekim Yapı A.Ş., one of the solution partners of the g'gant'c project designed with the A quality smart home concept, completed the works of a total of 60,000 square meters of exterior façade claddings of 32-storey 4-residence towers in the project with the A1 class fireproof fibercement HekimBoard sheets it produced..
Hekim Yapı A.Ş., whose signature is seen in the hundreds of prestigious private sector and public projects until today, added a special value to the project with its stylish design.
Hekim Yapı AS, has employed in this project, in the the best way , the advantages originated by the highest capacity in our country and the neigboring geography, and its experience of more than 10 years in the production of natural cement boards; and it accommodated itself to intensive production program in the best professional manner, via its qualified dealers; Hekim Yapı A.Ş., which changed the outlook of the Turkish building sector with its innovations it brought to the facade architecture, has delivered this gigantic project undertaken by 4 contractors, in the shortest time.
Hekimboard boards differ from the other facade cladding products with that it provides much more heat insulation according to classical encasement systems; and that it has a long service life, and becomes prominent also with that it accomodates easily to differeing designs. It satisfied fire-retardant facade material requirements at the highest quality particularly for Başakşehir houses, which exceed 100 meter height.
Hekim Yapı A.Ş., with Başakşehir Houses, added a new one to prestigious housing references; and it will continue to take part in similar projects in the coming period.