Interest in Prefabricated Buildings Increases Day by Day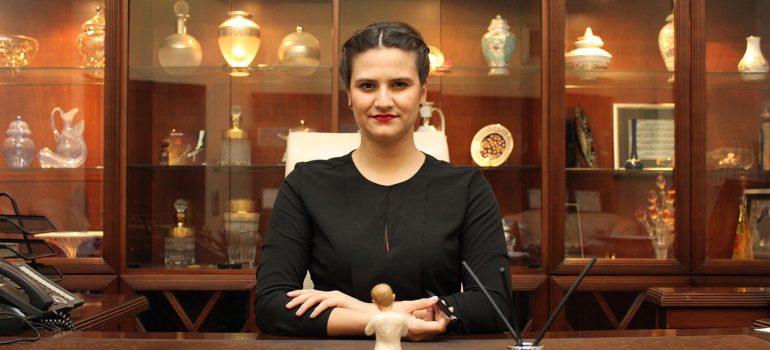 Hekim Holding Executive Vice President Aydan Hekim said that, the ready-made buildings can be produced in accordance with every need, added that "The interest in and use of readymade buildings is rapidly increasing in our country due to fast production, ease of installation, earthquake resistance and the like features of the readymade buildings."
Mrs. Hekim , in a statement regarding the readymade buildings to AA agent, said, for the record that "in Turkey, which has to live with the earthquake reality,The interest in the readymade buildings is increased by that they are economical, and that they allow quick production and assembly advantage in case of emergencies, anrd that they bear safe building features against earthquakes, and that they are of the intended use of all kinds."
Along with the urban transformation projects which finds application areas not only in Turkey but also across the world, there is a great opportunity for the sector. and she made such assessment that "However, we think that multi-storey buildings are increasingly prefered more, especially in the last periods, both in Turkey and in neighboring countries, so accordingly, this will bring parallel demands in the prefabricated building sector as well."
Mrs. Hekim reported that " Those who are in need, from each segment and sector that are living in Turkey prefrerd the readymade buildings manufactured with lightweight steel structural systems", and she said that "Readymade buildings can be manufactured to satisfy every need. THe interest in and areas of use of Readymade buildings are increased owing to their fast production, easy assembly, resistance to earthquake and the like features. In our country, almost everyone is aware of prefabricated houses. Although the prefabrication, especially the housing and container range is well known, the number and variety of prefabricated houses are increasing day by day in our country."
– "Prefabrication sector started to create new lifestyle"
Mrs Hekim said that "the earthquake in 1999 was a milestone in the prefabricated sector, and recognition of the prefabrication and prominence of prefabrication as a residence are actualized during this period." Mrs. Hekim, pointed out that attempts were made to invetigate prefabrication sector primarily due to because of the fear of earthquakes. spoke that Over the past years, the ever-developing and growing prefabrication sector has begun to create a new lifestyle for the people, rather than being an alternative with modern and original architectural designs.".
Mrs. Hekim mentioned that Hekim, holding companies produce all products required by the prefabricated buildings and expressed the following:
"If we try to count in order, Prefabrik Yapı AŞ mainly is engaged in the production of luxury villas, multi-storey buildings or ecological living units, multi-storey lightweight structures, industrial facilities and special wide-span projects, accomodation containers and cabin systems.Özge Yapı AŞ manufactures prefabricated and personalized villas and residences. Hebo Yapı AŞ produces more of the products called urban furniture that complete the city life. These are the things that you can see everywhere in the city life, such as portable toilets, security cabins, taxi-booking offices , ticket booths, bread sales cabinets, ATMs etc. Hekim Holding has been manufacturing prefabricated buildings since 1989. We have proved our success with the continuous increase in our production capacity. We plan to always maintain our contribution to economy and our country and to increase our success chart with the projects and activities that set example across the world."
Mrs Hekim attracted the attention to that the customer portfolio is changing in the prefabricated products, she told that they provide services to individuals of all ages, of all income level and of different education level, including to health, tourism, textiles, automotive, petroleum-natural gas, mining and defense industry. In addition, Mrs. Hekim expressed that t they offer different alternatives to the military with the public institutions and organizations.
– Middle East prefers container camp, Africa prefers housing.
Mrs. Hekim stated that they have exported 70 percent of their production abroad. "Some of our domestic market sales are exported for use in our overseas projects by our customers. We have direct exports to nearly 100 countries in 6 continents both in the private sector and government agencies. The number is increasing along with each passing year, and this allows us to operate across the globe. For each continent, the major countries are determined by our units and we will continue to concentrate on these regions."
She underlined that in addition to reinforced concrete and steel buildings, the readymade buildings as alternative building system, have drawn interest primarily in U.S.A. and Europe, and also in other countries in the world; and continued her speech. as follows:
"We have offered various structures in nearly 100 countries as from 1989 until today. We can give some example of new projects as follows: the prefabricated hotels in Iceland, the social facility areas we made in the municipalities of the Netherlands, the school buildings located in the university campus in panama, the first of which we have completed , and social activity areas. We design containers, prefabricated buildings and lightweight steel buildings available in our product range in accordance with every regional climates, and keep offering in the international arenas.The country's preferences are, in fact, the climatic data that we care much about. The purpose of the use of building may be said to be shaped by the effect of static loads and earthquakes.
We direct demands over the most correct systems available in our product range being subject to the locations at which the building will be installed. At this point, it would not be right to make certain limitations, but still, if it's necessary to give example, container camps, especially in the Middle East and Arab countries are preferred , because there more construction sites in the region, due to the extraction of oil, natural gas and other natural resources; and housing projects are highly preferred In the African countries.