Meeting of Hekim Yapı Dealers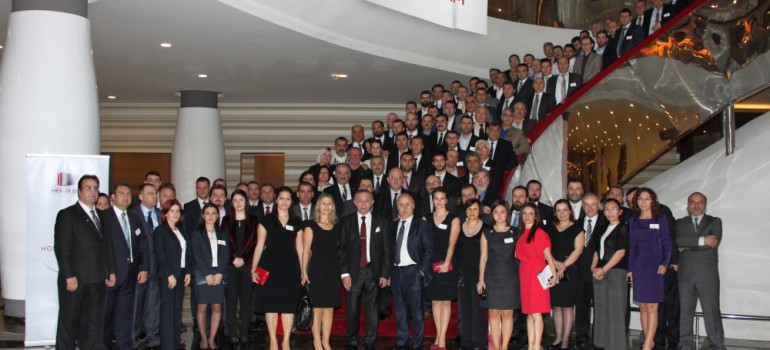 Traditional dealer meeting of Hekim Yapı, affiliated company of Hekim Holding, was held in Antalya Maxx Royal Hotel on 23-26 January. The year of 2013 was evaluated and 2014 forecasts was shared in the meeting hosting business partners and executives of Hekim Yapı. Information was given at the meeting regarding new products and 2 plants of Hekim Yapı which will start to operate in Hendek.
9th Dealer's Meeting of Hekim Yapı, making a difference in the production of facade cladding material with its innovation, was conducted. Hekim Yapı's 98 dealers around Turkey attended the meeting held in Maxx Royal Belek Golf & Spa on 23-26 January. Dr. Öner Hekim, Chairman of the Board of Hekim Holding, Hekim Holding Board Members, Hekim Yapı General Coordinator Fatih Ulusoy, Hekim Yapı executives and employees got together with the dealers.
Hekim Holding Chairman of the Board Dr. Öner Hekim stated in the meeting that 2 new plants were added to Hekim Yapı in its journey which started with fiber cement production. Currently operating with 8 factories and 6 production plants, Dr. Öner Hekim said they are targeting to establish polyurethane panel plant in the future.
Hekim Yapı General Coordinator Fatih Ulusoy stated that they are focusing on domestic and overseas markets by producing superior quality products and they are continuing their investments. Ulusoy said they have developed transportation advantages and made investments on the vehicle fleet to create added value to business partners.
Hekim Yapı Facilities Manager Mustafa Hekim said they expected 30% increase in the production capacity with the operation of new fiber cement plants. Mustafa Hekim stated they are one of the leading companies using technology effectively in building sector and introduced new products branded BOARDIA, developed for interior and dry exterior systems and HEKİMBOARD FLEXIBLE, developed for oval facades. Performance awards were given to the dealers with the highest turnover, at the end of the meeting.
Dealer meeting, where fun events such as backgammon and bowling tourneys, memory competitions took place, ended with an entertaining gala night. Şevval Sam, going on stage in the gala night, sang her songs for Hekim Yapı dealers.