Nature of tomorrow is created from today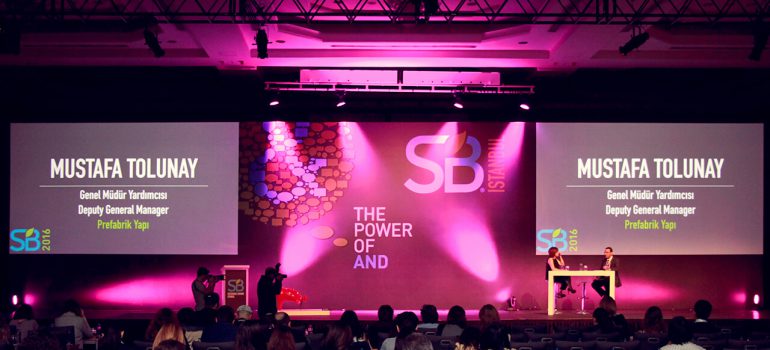 SUSTAINABLE BRANDS 2016 ISTANBUL brought together brand leaders working for a sustainable future.
The Istanbul leg of the global Sustainable Brands meetings, which is ranked among the most important 50 conferences of the world was held between May 26 and 27 at Swissotel The Bosphorus.
In the Sustainable Brands 2016 Istanbul, which was realized this year with the 'The Power Of And' theme, the changing brands of future, new brand strategies, innovation, digitalization, new consumer trends and social impact were discussed.
Semra Sevinç, Member of the Executive Board of the Sustainability Academy, who made the opening speech of the conference where sustainable brand leaders and participants came together, emphasized that Istanbul Turkey after USA/San Diego ve Brazil/Rio de Janeiro, was inclde in the three regions, which Sustainable Brands Conference was held.
Turkey's leading sustainable brands and leaders, told Sustainable Brands Conference participants what kind of future they are expecting. Prefabrik Yapı A.Ş., of Hekim Holding group companies, which have been participating as sponsoring brand for three years in the conference, the fourth of which was organized this year, has put emphasis on the importance of sustainable buildings for sustainable cities.
Prefabrik Yapı A.Ş. Deputy General Manager Mustafa Tolunay, who got on the stage on the second day of the conference, in the moderation of Meltem Çakıcı, who is Schneider Electric's Middle East Region Field Marketing Director, made an explanation, in relation with the sustainability of prefabricated buildings, "As in every sector, Of course it is possible to build sustainable structures in the prefabricated building sector as well with the right approach. moreover the prefabricated building sector may be much more advantageous than other building sectors."
In the continuation of his speech, Mr. Tolunay, gave examples ,from the world about the fact that prefabricated buildings are sustainable; and he stated that prefabricated buildings are used very intensively in both technologically and economically leading countries such as Germany-France and USA, and he touched on that sustainable products can always be produced with the right material and the right technique so that, sustainable cities can be constructed.
Mr. Tolunay, who touched on the innovation, lastly said that "If you don't cause an impact with innovation; your competitive power falls day by day. Innovation always keeps your organization, stakeholders and the sector dynamic. With this consciousness, the innovation in the building sector is a must for being a sustainable brand."