Ömer Hekim Memorial Forest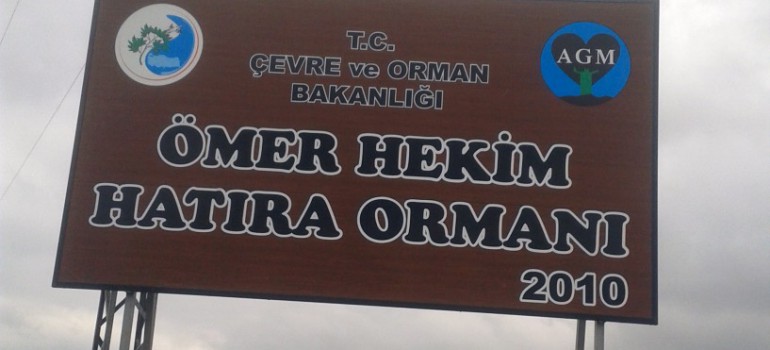 Ömer Hekim Memorial Forest was formed on the afforestation field at Susuz – Akıncılar / ANKARA Motorway with the participation of dealers of Hekim Yapı A.S. as well as Hekim Holding and Prefabrik Yapı A.S. and in the direction of the action plan of Ministry of Environment and Forestry, General Directorate of Forestation and Erosion Control.
A total of 6000 pine saplings were planted with great happiness and pride at the location called Susuz, right after Ankara toll booths on Ankara – Istanbul motorway, on 24-06-2014.
Basic environmental indicators are getting worse as a result of people's excessive voracity of consummation. There is deforestation, receding water levels, loss of soil through erosion, loss of wetlands, pastures getting destroyed, rivers run dry, mean temperature is increasing, reefs are dying, plant and animal species are becoming extinct fast. As the developing and expanding global economy continues to develop more, it will destroy the ecosystem which is the life-support system of the world. A coordinated work between public institutions and the community was set forth in the regional action plan (National Afforestation Campaign Action Plan) which was prepared for the reasons above. This action plan comprises 2008-2012. Afforestation, rehabilitation, erosion control and pasture improvement works were planned on an area of 2.300.000 hectares in five years time within the scope of this plan. Ministry of Environment and Forestry worked on 2.164.000 hectares and other institutions and establishments worked on the remaining 136.000 hectares.
Hekim YAPI is proud to contribute to this social responsibility project along with its dealers and will continue to participate to these kinds of social responsibility projects.