Prefabrik Yapı A.Ş. at the 2015 Sustainable Brands Conference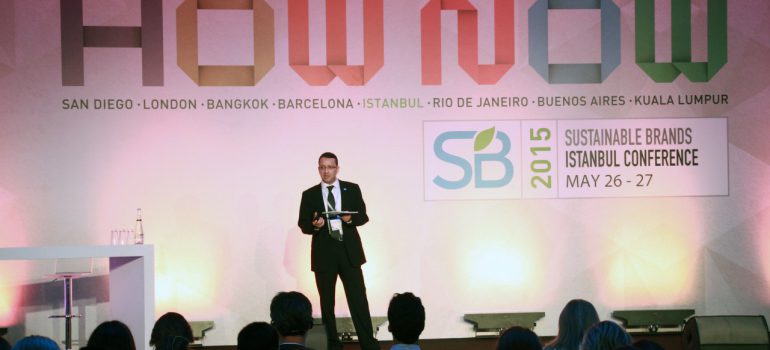 Prefabrik Yapı A.Ş, in its rendezvous with Sustainable Brands Platform in İstanbul, has touched upon the Changing Business Models…
Prefabrik Yapı A.Ş., the leading company of the precast Prefabricated Building sector, has touched on the subjects ""How to Make an Innovative Leadership in Creating Sustainable Business Models? in the Sustainable Brands Conference 2015 , which was held in Taksim Gümüşsuyu Park Bosphorus Hotel between May 26 and 27 2015." Within the scope of the Global Sustainable Brands 2015 datings, the theme "How now" attracted great attention by all individuals and iorganiztions. The world's leading brands shared common goals on sustainable future.
Prefabrik Yapı A.Ş. improves every passing day its power in entrepreneurship spirit in the global field and successful operational culture in the concepts such as, change, development, innovation, R & D and sustainable business models.. Prefabrik Yapı A.Ş. keeps union of work&power at the highest level with its qualified activities that create common values. It supports every initiative where universal values are protected, which is holistic and effective in itself; and makes it important on the sectoral basis.
It provides favorable conditions for the adoption of a culture of innovation in all areas that will contribute to our country in different fields of business and research, education and entrepreneurship.It exhibits a feature of innovative company,which has investment power in such subject as to assimilate the best practices in the business management, and offers innovative solutions in a continually increasing manner.At the present time, it represents the economical development of the ever-evolving technology, changing customer demands and continuously increasing production.
Prefabrik Yapı A.Ş., one of Hekim Holding group companies In his journey, it continues to take important steps and create sustainable business models.With the responsibility and consciousness given to being a pioneer in the sector for 26 years, it always aims for the better, and acts in accordance with such approach and understanding. It's developing together, growing together.
Another important issue of Prefabrik Yapı A.Ş., which drew attention in the 2015 Sustainable Brands Conference is that: it was implemented as as an initiative idea of university students with the new business model; It is the portable, lightweight, indigenous design, eco-friendly cardboard stand consisting of 100% recyclable materials at every stage.
Hekim Holding, developed its reputation in the global arena rapidly with, 8 companies and 8 enterprises in his body, each of which is professional in its field and possess a brand value, and, 170,000 m2 production area, 17,000 m2 readymade building promotion area, more than 1000 employees, exports to nearly 90 countries in 6 continents, more than 100 dealers inland and abroad, and more than 42,000 references.