Prefabrik Yapı A.Ş. prepares for the 25th Anniversary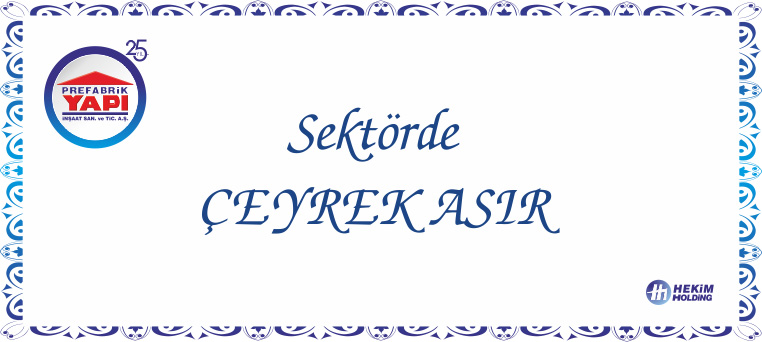 25th Anniversary Premiere of Prefabrik Yapı A.Ş. will be held at Radisson Blu Hotel Tuzla on December 13, 2014. Prefabrik Yapı A.Ş., which will crown its 25th year in the prefabricated building sector, with a magnificent gala, also contributes to the continuity of the sector and shows the importance of the quarter century in the growth of the brands in this process.
Prefabrik Yapı A.Ş., grows more and more every passing day with the responsibility and awareness imposed by being a leader in the sector and acts in line with such approach and understanding. Prefabrik Yapı A.Ş., which provides products and services beyond the expectations of customers and business partners, does not make concessions on its quality and its success chart.
Mustafa Tolunay, Deputy General Manager of Prefabrik Yapı A.Ş. states that they appended the signature to important projects in its 25th year with a slogan of "developing togather , growing together" and expresses that they had a very efficient year in 2014 with the participation of sector professionals, public representatives, suppliers, information stakeholders and press members. He reports that not solely as a Prefabrik Yapı A.Ş., but also under the roof of Hekim Holding ve group companies, they have taken places in the important symposiums.
We extend our thanks to esteemed Dr. Öner Hekim, Chairman of the Board of Hekim Holding, who received the Outstanding Service Award from the Grand National Assembly of Turkey and honored the title of honorary doctorate from the university for the values provided by his 8 companies and 8 enterprises and extend our gratitude to the esteemed.