Prefabrik Yapı A.Ş., takes its place in SB'17 İstanbul for the fouth time.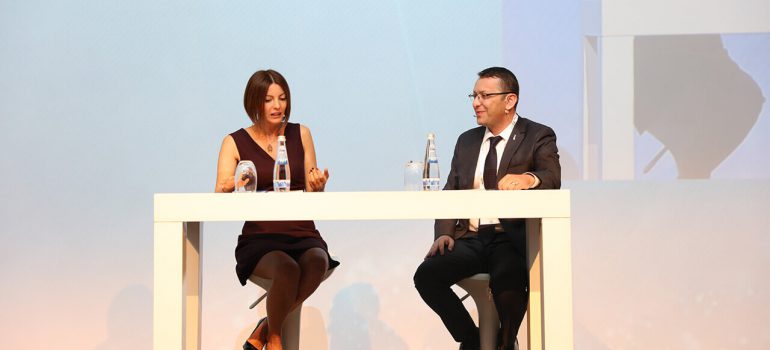 PREFABRİK YAPI A.Ş. TAKES ITS PLACE IN SUSTAINABLE BRANDS 2017 İSTANBUL CONFERENCE FOR THE FOURTH TIME…
PREFABRİK YAPI A.Ş, of HEKİM HOLDING companies participates this year as bronze sponsor in the conference where brand leaders came together.
The İstanbul leg of the Sustainable Brands meetings, which is considered as one of the most important conferences, was held at Swissotel The Bosphorus between April 20 and 21. prefabricated buildings, social impact management and support, corporate culture in innovation, and many issues such as sustainable business models were discussed in the Sustainable Brands 2017 İstanbul with the theme 'ACTIVATING PURPOSE'
On the second day of conference, the General Manager of Prefabrik Yapı A.Ş., Mustafa Tolunay, has taken place in the panel moderated by the journalist-writer Demet Cengiz on " PUSHING THE LIMITS THROUGH GOAL-ORIENTED INNOVATION" and he expressed that, thanks to the Steelin brands for Lightweight Steel Construction Systems, we are no longer limited to 3-4-storey buildings, and we achieved a comfort based on innovation by constructing lightweight steel structures that can be up to 8 storeys
In the continuation of his speech, Mr Tolunay has given examples from the world, that prefabricated buildings are sustainable; he stated that such buildings are intensively employed in the countries leading in technological and economical fields such as Germany, France and U.S.A.; and he touched on that the sustainable products can always be manufactured with proper material and right technique and in this way, sustainable cities can be developed.
Mr. Tolunay, who touched on in-corporate strategies while managing social impact, lastly said that "If you don't cause an impact with innovation; your competitive power falls day by day. Innovation always keeps your organization, stakeholders and the sector dynamic. With this consciousness, the innovation in the building sector is a must for being a sustainable brand."
Prefabrik Yapı A.Ş., of Hekim Holding companies, has undertaken the leadership of the sector with the firsts evet it provided the readymade building sector. It operates in Turkey and more than 100 countries by rapidly keeping on studies in the enter of "sustainability"
Sustainability and technological innovation are taken place among the basic principles of Prefabrik Yapı A.Ş., which Attaches great importance to R&D and P&D activities. The modules with zero carbon emission and ecological structures come into prominence among the innovations it offered to the sector.