Prefabrik Yapı promotes Mars Container in SBE16 İstanbul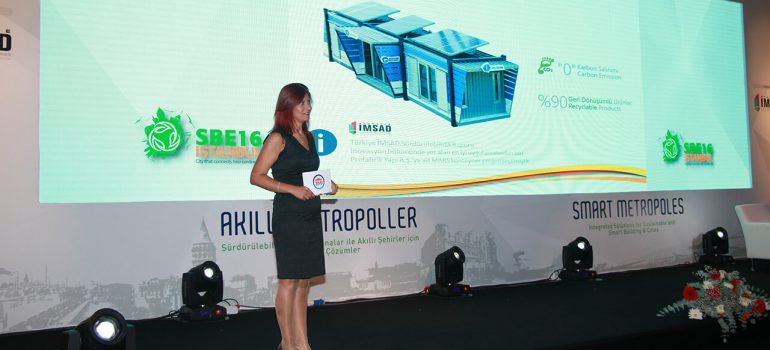 All leading brands of the sector participated in the International Conference on Sustainable Built Environment (SBE16 İstanbul) taken place by the Turkey Building Material Producers Association (İMSAD) in the Swissotel between October 13 and 15.
In order to leave a livable world to the future generations; Prefabrik Yapi AS, one of Hekim Holding's companies, has manufactured the ECOLOGICAL container (MARS), which is also known as "0-carbon container" (MARS), whose green house gas emission is zero; and, at the SBE16 Istanbul Conference, it has promoted this MARS container to the participants.
MARS Container, which is chosen by the unanimous vote of the selective board determined by İMSAD, has attracted great attention by the participants with being environmental-friendly, innovative and sustainable .
At the SBE16 Istanbul Conference, Prefabrik Yapı A.Ş. Sales Manager Demet Kılıç, took the stage as speaker, told the participants all features and manufacturing phase of the MARS container.
MARS Container which is the R & D product of Prefabrik Yapı A.Ş. can generate its own energy by itself; and it can meet its all energy requirements through photovoltaic panels placed on the roof without needing natural gas. It exhibits high resistance to hot and temperate facade types and all kinds of climate and nature circunstances..
Since it is produced by weldless connection technology, it makes contribution by mitigation or complete elimination hazardous gases emitted to the surrounding during welding process.It allows to build 4-8 storey ecological structures, with high innovation, energy and labor saving priority, environmentally- friendly.
It employs technology of HEKİMBOARD Fibercement, which has A1 class fire retardant feature, which contains no substance hazardous for human health, produced from completely natural materials, and environmentally-, and nature-friendly. Employment of Fibercement technology contributes to the complete elimination of harmful gas generation..