The first Iftar Meal is from Dr. Öner Hekim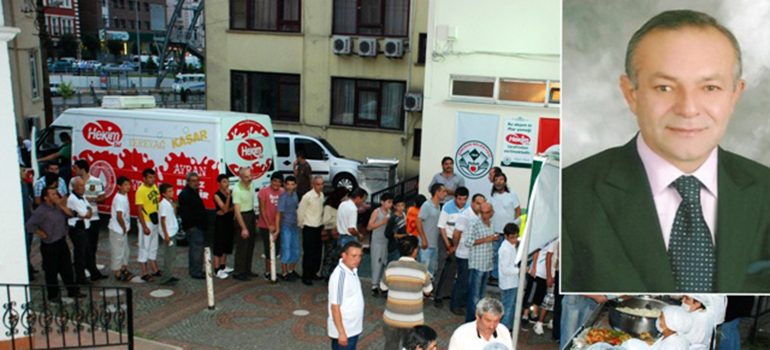 MUNICIPALITY OF GIRESUN HAS COMBINED IFTAR MEALS WITH TRADITIONAL CULTURE-ART ACTIVITIES AND TURNED IT INTO A SOCIAL SERVICE FOR THE FIRST TIME IN HISTORY.
Ramadan started with the first iftar. For the first time this year, municipality of Giresun organizes iftar meals and culture-art activities in Ataturk Square, intended at keeping alive Ramadan traditions.
Mayor of Giresun stated that they have succeeded in organizing this for the first time in Turkey and said, "We are setting an exceptional municipal work. We are happy to conduct such an extensive organization for the first time in the history of Giresun. We have created an area here for not only giving iftar meals, but all kinds of services, including health services. People of Giresun will eat their hot meals here in a v ery hygienic environment. We were not expecting such a great interest. We had about 600 guests. This number will climb to thousand."
Lokma dessert, ice cream, lemonade were distributed to the people by the officers after iftar meal and blood-pressures were measured in the bus of the health care center.
Giresun Deputy Governor Fethi Yorulmaz also attended İftar meal. Yorulmaz broke the fast with Aksu and then had his blood pressure measured in the bus of the health care center along with the citizens.
The iftar meal for the first night was carried out with the contribution of Öner Hekim, Chairman of the Board of Hekim Holding. Mr. Hekim also provides for the ayran drinks served with iftar meals during the month of Ramadan.
Mayor Aksu thanked Mr. Hekim who contributed to the iftar meal.
Municipality of Giresun shall organize events during Ramadan which will include some neighborhoods with the preliminary budget set at 250 thousand Lira. There will puppet shows, magicians, whirling dervishes, fire eater, Comedy Dance Trio, midget Show, competitions, Shows, Ibiş, mythical heroes, animations, folk dances, encomiast, Aşuk and Maşuk, Hacivat and Karagöz Live, Hacivat and Karagöz puppet show, theater in the round, light man, Turkish art music, Pişekar show within the scope of the events. Groups from Azerbaijan, Georgia, Russia, Belarus and Ukraine will stage shows. 200 artists from inland and overseas will take on the stage.