Visit From Giresun University To Hekim Milk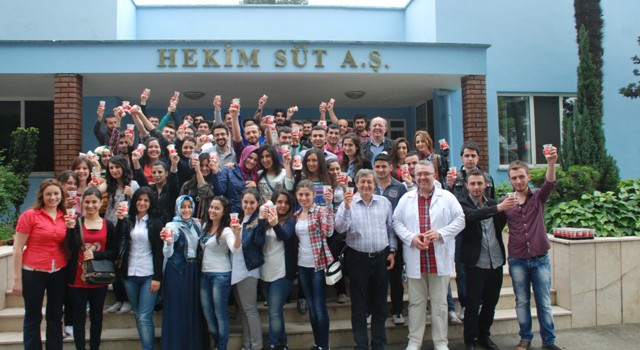 Students from Giresun University visited Hekim Milk, the only industrial corporation operating in the center of the city. Fifty students studying in the Faculty of Economics and Administrative Sciences Department of Business Administration visited Hekim Milk within the scope of the tour organized to observe technical-administrative and production structure of corporations which have industrial production. The group having Head of Department Prof. Dr. Bekir Kemal Ataman, Faculty members Asst. Professor İhsan Cora, asst Professor M. Cemil Özden were met by General Coordinator of Hekim Milk Mr. İsmail Yaşar.
Mr. Yaşar gave information to the students in the production plant of the factory and stated, "I would like to congratulate directors of Giresun University for the tour they organized to introduce local industrial corporations of the city. I evaluate this as a support of local industry and am happy to have you here. Hekim Milk is a corporation supporting a transparent mode of production. We are showing you proudly that our products are produced in a clean environment which have food safety. Service sectors in the university units and departments use our products. We hope to expand this. We invite academic and administrative personnel and the students of our university to consume Hekim Milk products."
Mr. Yaşar also added that they would like to have collaborations and carry out joint projects with the university related to their fields.
İsmail Yaşar explained milk turning to a product from its form as raw material, introduced 11 kinds of products produced in the factory and answered questions. Students toured the factory in groups for an hour with Hekim Milk Production Manager Emine Kırkoçoğlu and expressed that the information they received will contribute them both in their education and daily life.
The tour was completed with a photo shoot of academicians and students of Faculty of Economics and Administrative Sciences Department of Business Administration with the executives of the factory.