We are in the Board of Directors of İMSAD in 2017-2019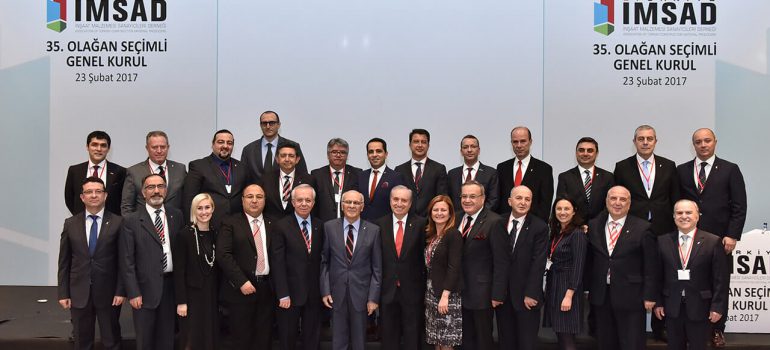 The General Manager of Prefabrik Yapi AS, one of Hekim Holding companies, Mustafa Tolunay was elected member of the board in the general assembly held in Four Seasons Bosphorus Hotel on Febeuary 23, 2017, of the Association of Turkish Construction Materials Producers (Turkey İMSAD), which carries on ite services and activities actively as of 1984, in the development of Turkey Construction Sector.
The Board of Directors of IMSAD is elected every two year. Kale Yapı Ürünleri Group President Ferdi Erdogan was elected president for İMSAD. He was formerly the member of the board. Ferdi Erdoğan who took over the presidency from Fethi Hinginar, was formerly the Member of the Board of Directors. The new president of Turkey İMSAD, Ferdi Erdoğan made speech in the general assembly, and touched on the importance of quality and employment in the sector. He said thatTurkey İMSAD will continue the studies on these issues. Heexpressed that the energy efficiency is also very important; he underlined that the sector should carry out studies on mining and logistics. In the 35th Ordinary General Assembly of Turkey İMSAD, the management and supervisory boards to serve for two years covering the 2017-2019 period, have been determined.
The General Manager of Prefabrik Yapı A.Ş., one of Hekim Holding companies, Mustafa Tolunay expressd that they will fulfill the responsibilities opf being in the Turkey İMSAD board of directors, had successfully maintained its role as the coordinator of Turkey IMSAD Foreign Trade Committee of the Board in the past period.
Mustafa Tolunay was born in 1974 in Kayseri. After completing his secondary education at TED College, he completed his higher education at Yıldız Technical University, Department of Civil Engineering. Active working life started with Çimtaş from Enka group companies in 1997. Since 2009, he has been working in Prefabrik Yapı A.Ş. of Hekim Holding. Between 2014 and 2016, he served as Board Member of Structural Steel Association. He represents Prefabrik Yapı A.Ş. Turkey as a Board Member in IMSAD as of 2013 . He is married and has one child.