We Continue Social Responsibility Projects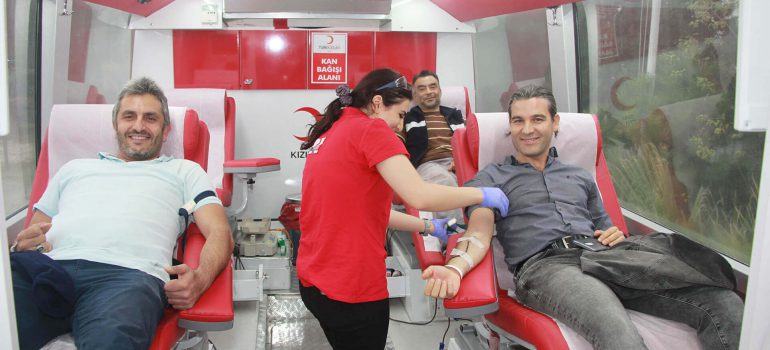 Through 8 companies with 8 companies, each of which is professional in its field and possess a brand value (Prefabrik Yapı A.Ş. – 1989, Özge Yapı A.Ş. – 1992, Hebo Yapı A.Ş. – 1996, Hekim Süt A.Ş. – 1999, Hekim Yapı A.Ş. – 2001, Hekim Boya ve Plastik Ltd. – 2001, Hekim Madencilik – 2004, HekimBoard – 2004, Piraziz ForeignTradeCo. Şirketleri – 2008, HekimPor – 2010, HekimPlast – 2011, HekimPanel – 2011, HekimPan – 2014, HekimProfil – 2014 ve Steelin – 2014), nearly 1000 employees, 191,000 m2 production area, readymade building promotion area, more than 100 dealers inland and abroad, exports to more than 130 countries in 6 continents, more than 100 dealers inland and abroad, and more than 50,000 references, Hekim Holding has developed its reputation in the global arena and is one of the world's leading companies. With its social responsibility activities, Hekim Holding continues to be a pioneer in the sectors in which it operates.
Prior to the Kızılay week, which will be celebrated on 29 October – 4 November 2018; Blood and Stem Cell Donation was made to Kızılay by means of a corporate social responsibility project, "you be a light for life too" campaign in all companies and enterprises of Hekim Holding.This campaign was actualized with the voluntary participation of Hekim Holding Family employees. With this campaign, which aims to benefit the society by acting with a family consciousness,it was hoped that many citizens in need of treatment will recover their health back.
Hekim Holding Family; will continue to contribute to the Blood and Stem Cell campaign it has initiated by increasing its participation every year.