We were at the Future of Construction Sector Summit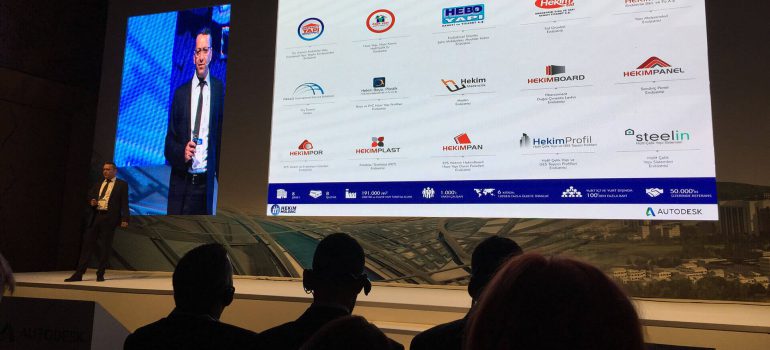 Nearly one thousand guests who attended the Autodesk Construction Industry Future Summit held at Raffles Hotel Istanbul, were hosted on December 3, 2019. At such summit where information about the future of the construction sector and opportunities in the internal and external markets was also discussed, Standards with regard to the BIM (Building Information Modeling) was also examined and evaluations have been carried out. At the Autodesk Construction Industry Summit, both professionals, and senior executives of the construction sector came together with this organization.
Prefabrik Yapı A.Ş.., which is an Establishment of Hekim Holding Took its Place at the Summit
Hekim Holding; exports to nearly 150 countries in 6 continents. Prefabrik Yapı A.Ş.., which is one of the Hekim Holding's 8 companies and 8 enterprises, has taken its place at the Autodesk Future of Construction Sector Summit; and has shared its experiences based on long years in the field of prefabricated buildings with the participants. Mr. Mustafa Tolunay, the General Manager of Prefabrik Yapı, in his speech, mentioned the factors that have enabled them to enter the prefabricated building sector, the factors that may cause positive and negative effects on commercial growth until 2022. He also drew attention to the change in the demand curve for key skills in all industries between 2015 and 2020. Mr. Mustafa Tolunay, the General Manager of Prefabrik Yapı, has emphasized that the technology is developing very fast today, and stated that companies should be able to keep up with the developing technology.
In his speech, Mr. Mustafa Tolunay referred ten technologies that will transform the global economy until 2025. He stated "Unfortunately, we, as a country, do not allocate a lot of money and time on design and the project. However, accordingly, our costs result in more financial losses when complications arise in the construction of constructions." Mr. Tolunay, with this statement, has attracted more attention to one more subject to be taken into consideration in the field of prefabricated construction.
HekimBoard Branded A1 Class NonFlammability in BIM Studies
Mr. Tolunay, stated that, one year ago, they started BIM studies in prefabricated construction, employing cement boards featuring Hekimboard A1 class nonflammability, together with BIM object form, they intended to completely digitalize their system with the other product groups included in the process; and he expressed that their goals is in this direction. Mr. Tolunay expressed their enthusiasm as a company about the adaptation process to BIM and stated that they are intensively working and they aim to complete the process about two years later in prefabricated construction. After full adaptation to BIM, as prefabricated construction, he added to his statements that they could have the opportunity to share information with customers about all phases of the project from construction to completion.
Mr., Tolunay, addressed the sustainability about the phases of the construction of the Prefabrik Yapı's lightweight steel structure, of Steelin brand, which can be erected up to 8 storey; He made a mini presentation on three-dimensional modeling on this subject and thereby, clarified those that are wondered about prefabricated buildings.
Increased Urbanization Rate was talked about at the Summit
Mr. Naji Atallah, Production Department Manager has also made a speech at the summit together with Autodesk Mimarlık, Mühendislik İnşaat (AEC) (Autodesk Architecture, Engineering Construction) . In the summit, which was held with the congregation of all stakeholders in the construction sector, He talked about the rate of urbanization increasing each passing day. He stated that they wanted to draw attention to the need for transportation, infrastructure and housing, which are increasing along with the urbanization.
Long Train Railways Will Be Needed
Mr. Naji Atallah emphasized that when approaching the year 2050, the construction sector would be able to meet the global need only with the construction of 13,000 houses per day. However, the roads amounting to a length of 30 times circling around the world in terms of highway and railroad, would be required. Mr. Atallah has put an emphasis by saying " "Most importantly, we need to meet all needs with less resources, less waste and carbon emissions, and build an environmentally friendly ecosystem." For this reason, he shared that they have also taken into consideration the effects on the climate change during product design. He added to his statements that they help customers achieve their business goals as well as their sustainable goals.
Prefabrik Yapı A.Ş.., which has provided high quality prefabricated building services for 30 years, and continues to improve itself by constantly following the changing technologies in the world, will go on intensive work process in order to complete the BIM adaptation process within shortest time; and it will ensure the customers to receive the best service in the prefabricated construction sector; and the service quality will continue to increase.