Message of the Chairman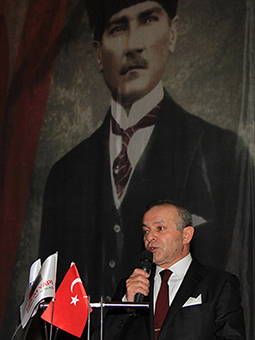 Hekim Holding has proved its success with Prefabrik Yapı A.S., Özge Yapı A.S., Hebo Yapı A.S., Hekim Süt A.S., Hekim Yapı A.S., Hekim Boya ve Plastik Ltd., Piraziz Dış Ticaret A.S. companies and Hekim Mining, HekimPanel, HekimPor, HekimPlast, Steelin and Hekim Profile establishments which are all managed professionally and each possessing brand value in its sector.
Hekim Holding has developed its global respectability with the number of employees close to 1000, 191.000 m2 of production and display area for prefabricated buildings,more than 100 dealers, more than 50.000 references and exports close to 150 countries in 6 continents. Companies of Hekim Holding, assuming the leadership of the sector with the initiatives in the prefabricated building sector, continue their activities based on technological novelties and sustainability in this age of innovation. The power of Hekim Holding in the prefabricated building sector is generated by the unity of its group of companies each expert in its field, high capacity integrated plants and solution-oriented professional approach.
We would like to especially thank our employees, customers, dealers, all people and companies which we collaborated as business and solution partners for supporting the development of Hekim Holding.
We are here to be aware of our responsibilities on behalf of our country and people, to represent our country in the international arena in the best way possible, to provide development with our initiatives which we maintain; because our country and our people deserve this exceedingly…
We are ready fort he future with our power generating from the unity of Hekim Holding companies.
Sincerely Yours,
Dr. Öner HEKİM
Chairman of the Board of Hekim Holding