www.hekimyapi.com
Light and Safe Line of Design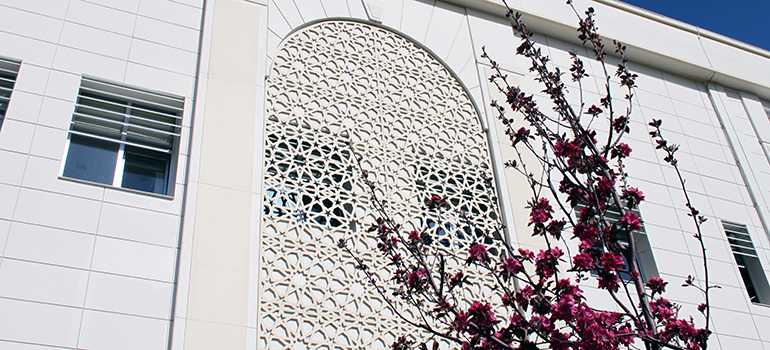 Hekim Yapı A.Ş. is the company of our country, which produced the first autoclaved fiber natural cement boards. Hekim Yapı A.Ş., has an annual total production capacity of 125.000 m³ HekimBoard fibercement natural cement boards, in the three production facilities occupying 111.000 m² production area, located in Hendek – Sakarya 2nd Organized Industrial Zone.
Within the natural cement board range, produced by Hekim Yapı A.Ş., in order to be employed particularly as interior and exterior facade cladding material in the year 2004, as a result of its investment made in the year 2001, there are Fibercement natural cement boards produced under HekimBoard brand, Fibercement natural cement board siding for beach house produced under TurkSiding brand, Foil laminated fibercement boards under FibercementLam brand, Fibercrement natural cement boards under the Bordia brand and flexible natural cement boards under HekimBoard Flexible Fibercement brands.
The investment of Hekim Yapı A.Ş. made in the year 2010 is EPS (Expanded Polystyrene Foam) facility with an annual production capacity of 500.000 m³. In this facility also; High quality white and carbon EPS insulation and injection products are produced with HekimPor brand.
In 2011, two new investments were actualized by Hekim Yapı A.Ş. he first of them is the EPS and rockwool sandwich panel facility. In this facility having annual 2.000.000 m² production capacity, roof and wall panels under HekimPanel brand, at different type and dimension with 1.25 m width up to 16 meter length, were started to be produced. Along with the addition of Polyurethane foam sandwich panel facility to the production line, its capacity increased to 4,000,000 m2 and it completed its product range as EPS and rock wool sandwich panel. The second investment of Hekim Yapı A.Ş. in 2011 is the production facility of PET material which is known as polyethyleneterephthalate in the English technical literature. In this facility, Polyethyleneterephthalate under Hekimplast brand is produced in the PET roller line.
The investment made in the year 2014 by Hekim Yapı A.Ş. is the HekimBoard readymade EPS wall sandwich panel production line
Through its strong infrastructure, its faithful and self-confident staff and above all, its mission to work nonstop and to be a pioneer for the most innovative technologies in order for our country to be among the developed countries, Hekim Yapı Endüstrisi Sanayi ve Ticaret AS, which was established with total equity capital, will continue to be one of the companies that will play important role to convey our country to the future.

Hekim Yapı A.Ş. Enterprises and brands

Fibercement Natural Cement Board
Large-sized boards that can be used in interior and exterior cladding of all kinds of structures are produced with HekimBoard brand. The boards with a standard width of 1250 mm can be produced in two sizes: as 2500 mm and 3000 mm. Standard sizes and production of other sizes than standard ones are possible. The boards have different types depending on the usage (indoor or outdoor applications) and surface appearance.

Natural Cement Board Shore Siding
Natural cement shore siding employed in the exterior facade cladding with overlapping structure and aesthetic appearance, hardened in the autoclave featuring walnut or cedar pattern for the building.

Polyurethane foam, EPS and rock wool sandwich panels
The annual capacity of HekimPanel production facility is 4,000,000 m2. In the facility where sandwich panels from 600 mm wide to 1,250 mm wide and up to 16,000 mm long can be produced, it is possible to produce wall (facade) panels at such pitches as 3- and 5-, at such types as H-system, hidden screw and snap-in system at such thickness ranging from 40 mm to 150 mm. The products launched onto market with HekimPanel brand, brought a new dynamic to the market with many different alternative options, and offers the most economical solutions, to the demands of end users who need different products in the shortest time.

EPS Insulation and Injection Products
Expanded Polystyrene (EPS) is a heat insulation material, which is derived from petroleum in the form of foam, thermoplastic, closed pore, typically white colored. It offers the same heat performance in the most economical way as the other materials; it offers the same heat performance as the other materials; it won't deform over time; It is a heat insulation material with consumer and environmental friendly features.

Polyethylene Terephthalate
HekimPlast, which is one of Hekim Yapı companies, produces the material known as (polyethylene terephthalate) (PET) in English language, in the PET Roll line, HekimPlast products manufactured from the raw material made of PET crumbs or PET granules are used in many different areas of the industry since the year 2011.
Areas of Use of PET Group Materials

External layer on one or two sides of sandwich panels,
Thermal insulation material for ceiling and interior wall cladding,
Surface coating material in high acid and salt containing structures,
For places such as cold storage stores, chicken house where, as an alternative to metal, chemical and rust resistance are required.
In wet spaces where hygiene criteria are important; and in all Toilet-shower combo cabins,
Insulation layer in water and humid environments,
Sound insulation layer for the tunnels,
For white goods, automotive, food and packaging sectors, industrial packaging, product packaging, auto parts, disposable products, thin wall containers etc.,
Advertising industry, exhibition stands, classifieds and bulletin boards

HekimBoard EPS Wall Panel for Readymade Building
The press panels produced in the Hekim Yapı facilities with HekimPan brand, is produced with a method that HekimBoard branded fibercement boards are compacted together with HekimPor brand EPS insulation material using a special bonding agent HekimPan press panels produced in a manner that on both surface, there are fibercement boards of different thickness and pattern, provide great convenience for prefabricated building manufacturers.


Laminated Natural Cement Board


Laminated Natural Cement Board

Flexible Natural Cement Sheet
Product Groups
HekimBoard
TurkSiding
FibercementLam
Boardia
HekimBoard Flexible Fibercement
HekimPanel
HekimPor
HekimPlast
HekimPan
Fields of Activity
The enterprises such as HekimBoard, which manufactures to be used as interior and exterior cladding material; HekimPanel, which produces roof panels, facade panels, composite panels, fibercement facade panels, PET panels; HekimPor, which produces EPS insulation and injection products to meet the insulation needs; HekimPlast, which operates in the field of polyethylene terephthalate decorative PET and HekimPan, which produces HekimBoard ready-made EPS wall panel provide products and services in the construction materials industry.
Capacity
HekimBoard: 125.000 m³/year
HekimPanel: 4.000.000 m²/year
HekimPor: 500.000 m³/year
HekimPlast: 3.000 ton/year
HekimPan: 300.000 ad./year